Commercial
Our commercial customers understand that effective communications can help their employees work more efficiently, increasing productivity and helping their companies run more effectively. Whether you are looking for a private two-way radio system or just need to improve your cellular coverage in the building, we can help you take your productivity to the next level.
We're here to support you from start to finish
Contact us with your communication concerns / requirements and we will work together to choose the right products to get the job done.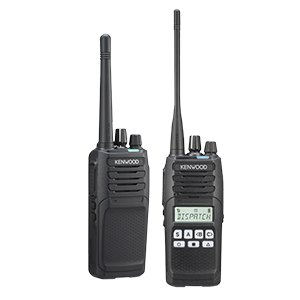 JVCKENWOOD NEXEDGE Portable Radio
If you are thinking of harnessing the latest digital protocols – NXDN or DMR – to enhance business efficiency or FM analog for its simplicity, the NX-1200/1300 has you covered. Our One-"K"-Fits-All solution offers the widest selection of two-way radios for everyday use.
NXDN or DMR digital CAI and
FM analog only models are available
High-contrast, white backlit LCD with keypad
or basic enclosure models
Wide band UHF 70MHz coverage